Why We're Different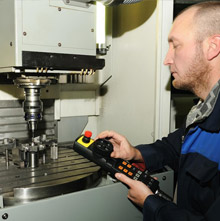 Maybe it's our nearly 170 years of experience in the business. Maybe it's our extensive product selection. Maybe it's our unparalleled knowledge of CNC router bits and systems. While it could be all of those things, it is also the fact that Southern Saw sets itself apart from other companies with our customer service. Our customers know we are about them and will work tirelessly to provide them with the tools and services they need in order to execute successful projects 100% of the time.
The Southern Saw team members are experts at sharpening all types of solid carbide tooling, from upcut/downcut spirals, to compression bits, to roughing spirals. Our grinding equipment is the best available and we can guarantee concentricity every time.
Our team is committed to our customers. The Southern Saw team is committed to helping our customers and delivering on the best results possible. We consider ourselves not just as a supplier, but also as real hands-on problem solvers, who work to solve routing problems and challenges. Our team also works to extend the life of your routing tools so that you are able to get the most out of your investment. With many different products and services offered both locally and to other states, Southern Saw is able to provide our customers with the supplies many other businesses do not carry. If you want a team that you can rely on to always provide top-quality service to your company, then look no further than Southern Saw.
If you are new to CNC router tooling or just need advice for your next project, the Southern Saw team is here to help you choose the best product for your project. We are happy to answer any tooling questions that you may have and can guide you through the process of finding the right cutting tools and CNC routers for your business.
Southern Saw proudly serves the Maryland, Southern Pennsylvania, and Northern Virginia areas with its pickup and delivery services, and can provide nationwide service through UPS, Fed-Ex, and the U.S. Postal Service.
Stay sharp with Southern Saw! Call today at 410.327.0050 or 800.468.3798 to get started. You can also email us at info@southernsaw.com.